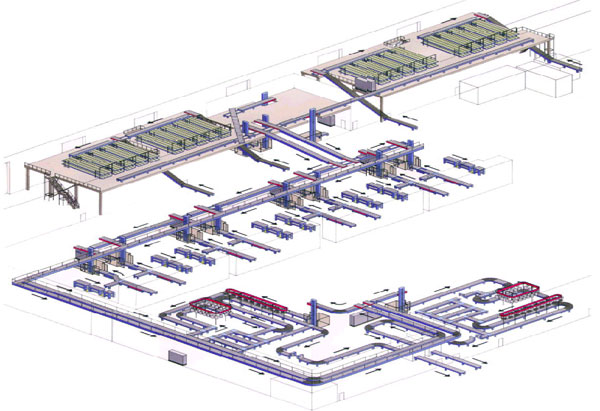 Today food industry intensive is developed by building new factories, improving the quality of production processes and increasing productivity. Solution task of the production optimization and logistics processes is impossible without the use of modern means of automation. Qualitatively designed conveyor system allows join all stages of production into a single whole, optimize operating costs by reducing the number of operators, saving of production and storage areas and improvement working conditions. The introduction of the conveyor system in the production process is possible both during building of a new enterprise, and already operational production.
Therefore, an important stage for the system design is correct technical specification. In the beginning, you need to determine what tasks will be carried by conveyor system, and what effeciency will be.
The technical specification includes a variety information about the object of automation:
Layout with the arrangement of the process equipment;
Characteristics of the transported product;
Specifications of production lines;
Required capacity;
Requirements to structure (material, coating, sanitary conditions);
Desired equipment control systems, drives, pneumatics, etc.;
Operation hours
Maximum detailed technical specifications will allow the most correctly designing conveyor systems.
In composition of the conveyor line we includes all range of our equipment depending on the required tasks characteristics. Our specialists can design any conveyor systems depending on your desire.
If you want to develop a conveyor system, please contact us by phone + 371 66 016 253, or e-mail bcsconveyor@inbox.lv