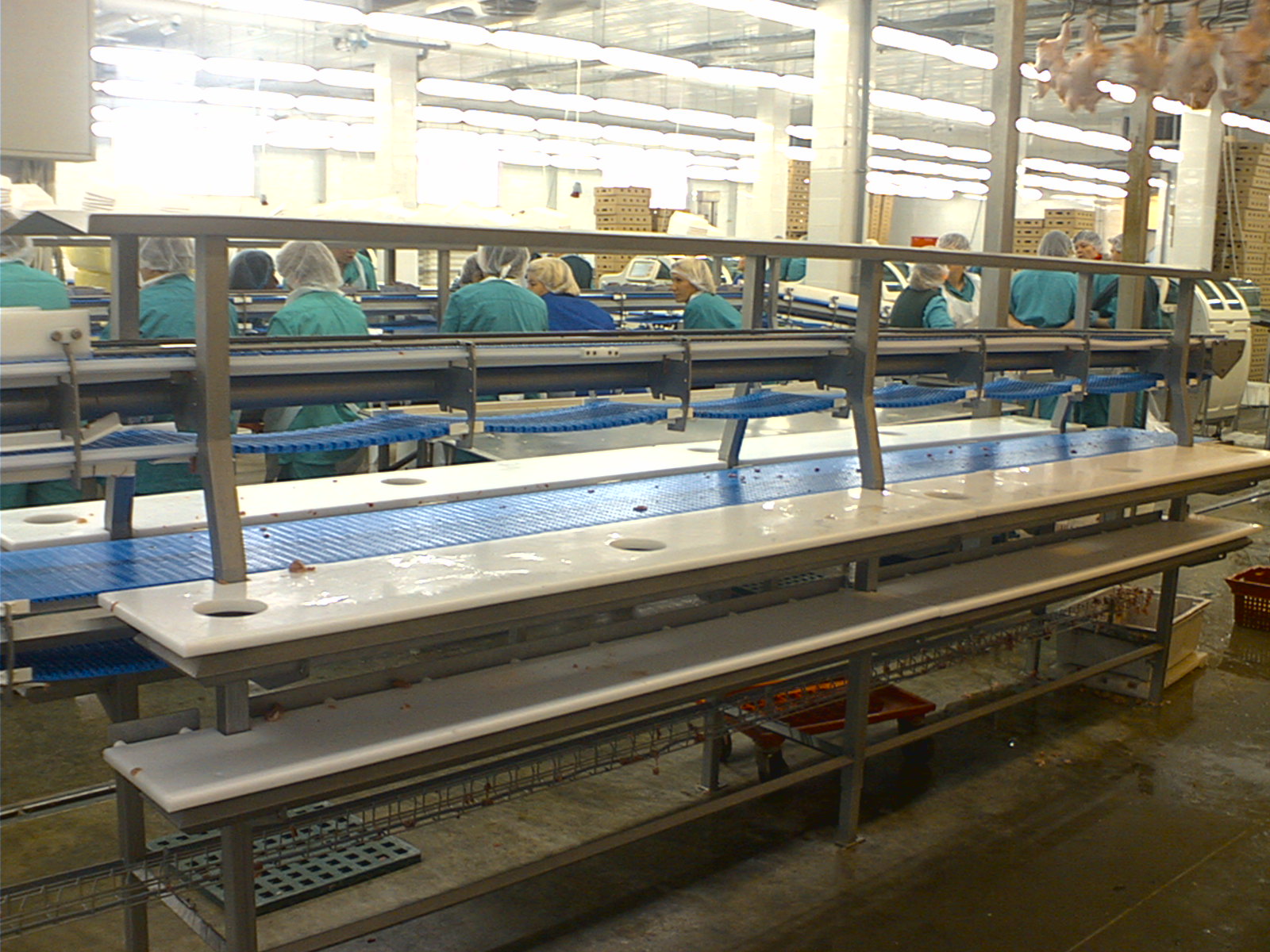 Conveyor systems for poultry factories are used for automation of cutting and packaging products, significantly increasing the economic efficiency of poultry production. Conveyors are used both in factories with low capacity with usage manual work, and in large poultry factories with high production lines MEYN, STORK, etc .
The main types of poultry production are chicken and turkey. Conveyor equipment for these types of meat is almost identical. Some differences are determined by differences in the weight and dimensions of chicken and turkey.
Conveyors for cutting areas
The capacity of modern automatic cutting lines STORK and MEYN can reach 7,000 heads / hour. With such capacity for further processing are necessary to use of conveyor systems. It provides cutting and packaging on the smallest area with the optimal number of staff.
Packing line of by-products
The line is used for manual laying by-products: heads, hearts, bowels, etc. in trays. By-products are supplied from the cutting area on the lower layer of the conveyor and the operators places it in the trays, checks weight on the scales. Next, the trays with by-products moves on the second layer, along which it is fed through a roller conveyor to the machine of packaging and labeling.
For the convenience of the operator on the third layer of the conveyor is installed stand for empty trays. Side desks are made from high molecular polyethylene and mounted on a metal frame.
If necessary, we can offer the customer a different composition of the packing line, depending on department planning.
Conveyors for poultry parts transportation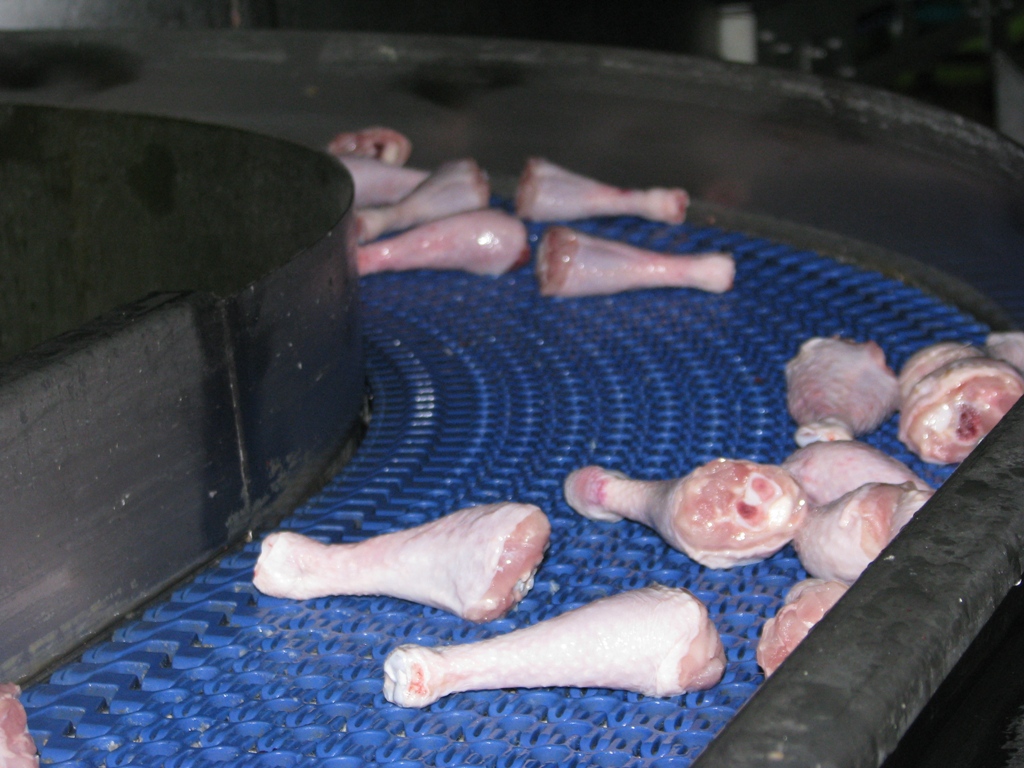 Modular belt conveyors are included in cutting line to perform transporting of poultry parts from cutting area to the following stages of processing. At the beginning of conveyor is set the receiving bin, which exclude product loss.
Difficulties may arise during transporting fillets or skin - need to correctly organize the transition from one conveyor to another.
Cutting conveyors
On the cutting conveyors a final cutting is made: cutting fillets, bones removing, deboning, skin removing, etc. Finished products are supplied further to multilayer conveyors.
Multilayer conveyors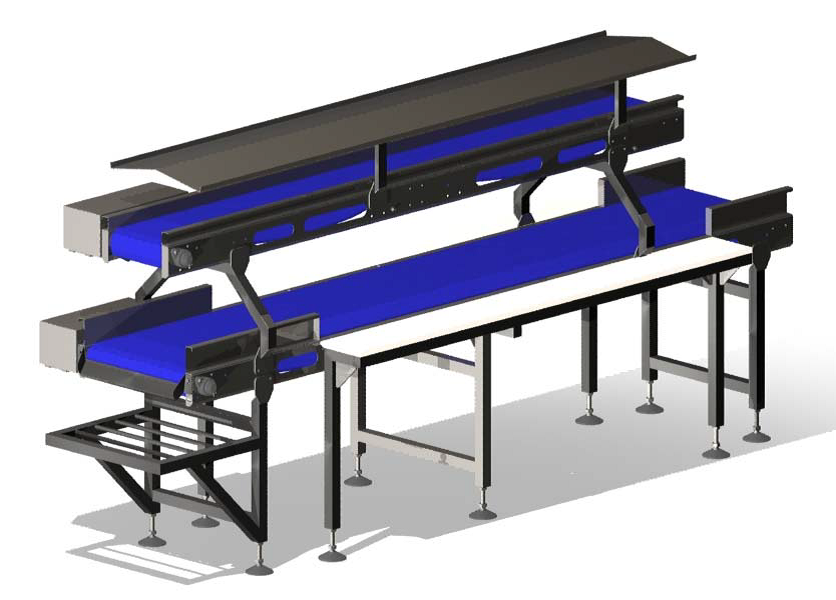 They are used for laying products in the trays and transporting them to the packaging machine. On the first layer are given chicken parts (wings, legs and fillets, etc.), on the second the operator lay product on the trays, the third layer is used for storage of empty trays.
Conveyors for giving boxes to packaging
The best choice for giving boxes to packing area is the overhead conveyor. On empty boxes area operator put the empty boxes on special hangers. Then boxes move along a closed way and supplied to all packaging areas placed in the department. Application of overhead chain conveyors avoids storing boxes near the work desks, thus saving valuable space in the cutting area.
Packing of products
Trays with the products after packaging machine are fed on accumulative roller conveyor. The operator fills boxes and puts it on the conveyor feeding to the warehouse. Packing desks can be of different configurations depending on customer requirements.
Products after shock freezing chamber are usually packed in boxes with an attached polyethylene bag.
Solutions for high capacity
Belt contact freezer for chicken part
Such conveyor is applied for form a thin crust of ice on the bottom surface of cut chicken parts before giving to spiral conveyor shock freezing. This is necessary to prevent sticking of chicken parts on spiral conveyor belt, which can lead to an emergency stop due to jamming.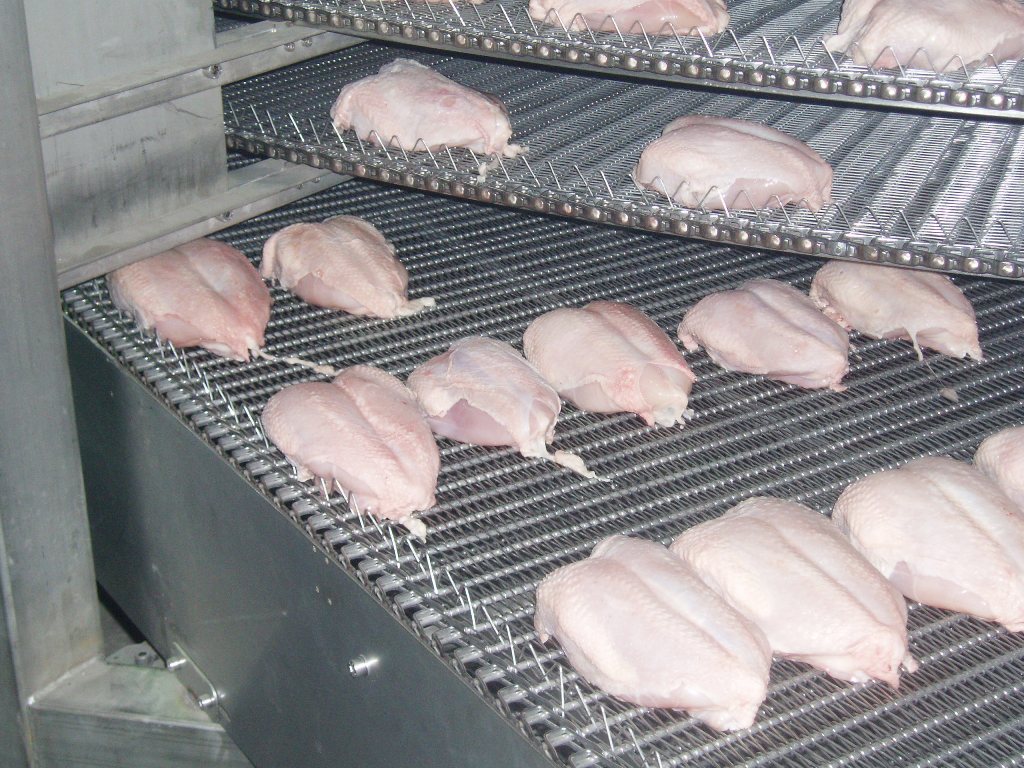 Shock freezing of poultry meat on spiral conveyors
Freezing occurs on the spiral conveyor with a plastic modular belt or mesh belt. Spiral conveyor is installed in the chamber collected from the heat-insulating sandwich panels. During shock freezing process small water crystals are formed, which do not damage the cellular structure of the meat. This ensures a high quality product.
At the exit from the chamber products are packed in boxes and transported to the low-temperature warehouse for storage until shipment.
Shock freezing of poultry meat in boxfreezer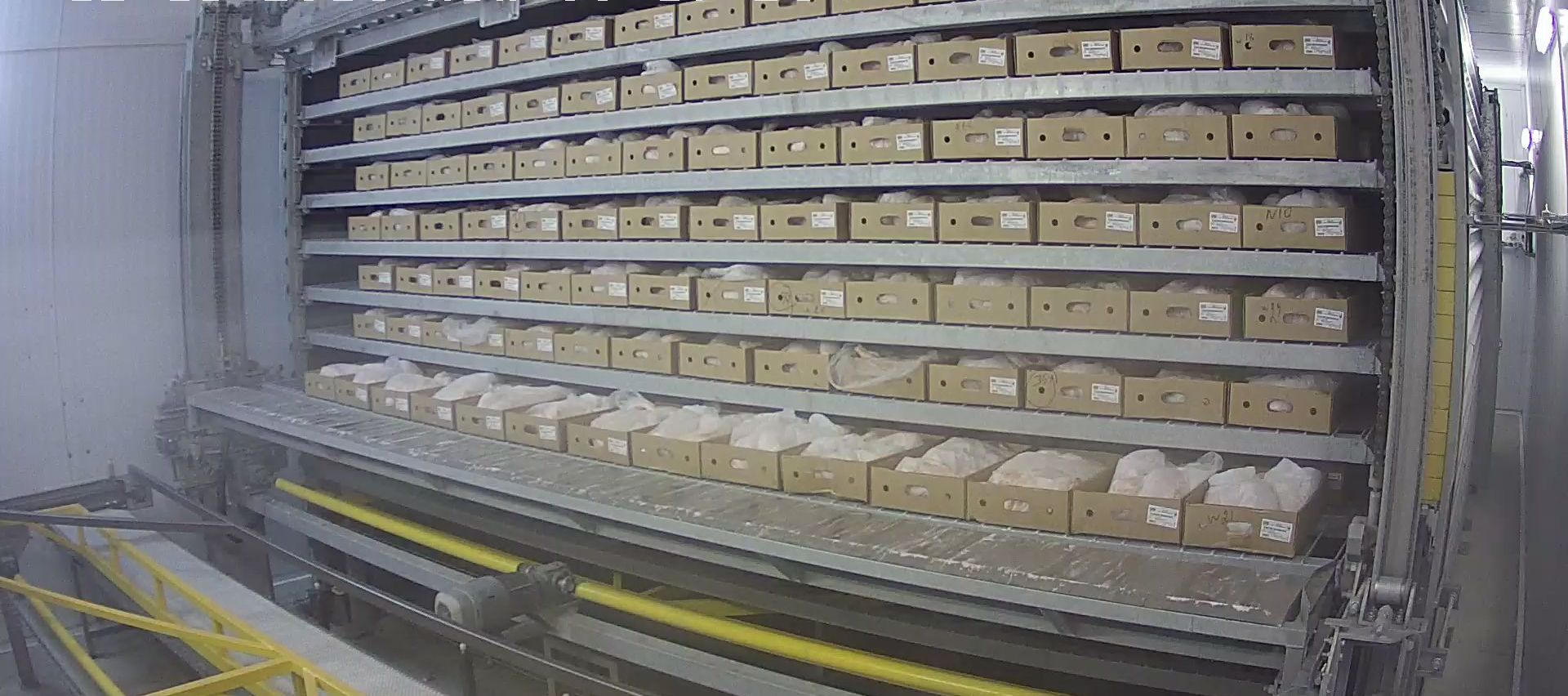 Products stacked via strap conveyor on metal pallets, which move along the tiers. Moving the pallets with the products is carried out by automated portals.
For best heat transfer boxes should be perforated and have open top.
As a rule, before boxfreezer the box buffer is mounted to provide optimal loading products on pallets.
"BCS" company produces both single equipment and complex automated conveyor systems for poultry factories. To order, please contact us by phone + 371 66 016 253, or e-mail bcsconveyor@inbox.lv
We guarantee a quick and qualified answer!