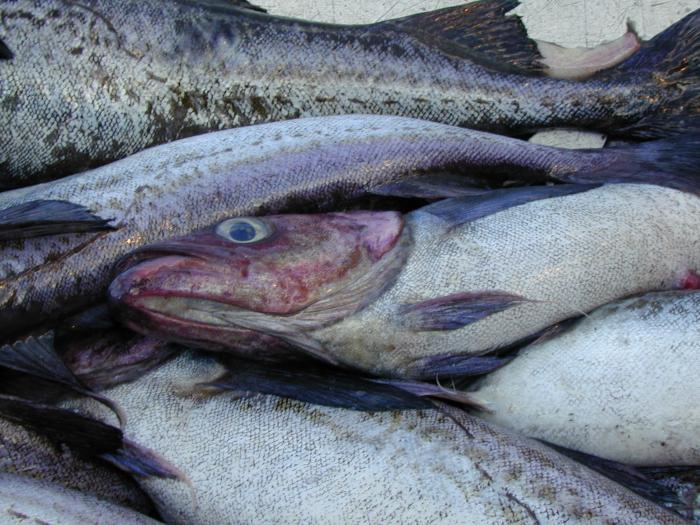 Our company develops and manufactures various conveyer systems of the highest quality for fish-processing industry. With our conveyors you can significantly increase productivity and reduce costs in the processing of fish.
To conveyor for fish processing industry are made increased sanitary demands. It determines some peculiarities in the construction, which simplify cleaning, reduces waste accumulation on the elements of structure:
Device for belt lifting;
Special holes in the conveyor sides;
Motors with high degree of protection;
Laying cables in stainless steel cable channel
At every stage of the producing process, various types of conveyor equipment are used. Conveyors with modular belt are the best choice for this case. To move the trays and boxes are used chain conveyors. For the canned fish production lines most commonly are used plastic chain conveyors. Also for process automation and staff reducing possible to use various automatic devices. For example, stations for sorting boxes with products, conveyor scales, stackers, etc.
Cutting conveyors for fish
Cutting conveyors for fish has the same construction as cutting conveyor for meat industry. You can get all information pressing «Meat» branch.
Fish glazing conveyor
Glazing is a coating the surface of a fish by crust of ice that protects the fish from damage and prevents shrinkage and oxidation of fat. The glaze percentage should be 4 -6% by weight of the fish.
For glazing the fish is immersed in fresh water at temperature 2 ° C for a few seconds (the immersion method). On the fish surface glaze layer is frozen. Glazing process is more efficiently when the temperature of fish is preliminary reduced. It is also often used another type of glazing - irrigation. Fish are transported on the conveyor and passed through a watering device or a set of nozzles.
Fish glazing machine
For glazing are used special glazing machines which provide laying ice on the product. It consist of a mesh conveyor belt, the water irrigation device throughout the width of the belt, the supporting frame with the tray for water collecting and pumping station. The tray has a special basket for acceptance flake ice, which is used in addition to reduce the temperature of the circulating water. Structure of such glazing machine provides easy access to all components for hygienic processing.
Spiral conveyor for fish shock freezing
Shock freezing is used for freezing fish effectively. At the same time due to intense heat exchange in the tissues of fish smaller ice crystals are formed, which does not damage the structure of tissues. This ensures high quality of products.
For fish shock freezing are used spiral conveyors placed in a heat-insulated cooling chamber with intensive air blowing at temperature of 30 - 35 ° C.
Packaging conveyors
As a rule, it consists of three layers: the conveyor of empty packing, the conveyor for products and conveyor for taking containers with products. Equipped with side desks with tops are made from high-molecular polyethylene.
Conveyors for transporting of packaging with product
At fish processing department take place an intensive movement of various packaging (plastic boxes, corrugated boxes, etc.). With the introduction of conveyor systems you can save production space and reduce the number of staff.
To move plastic boxes are used chain conveyors. It is the most cost-effective solution for this task. The main condition is the uniformity of the boxes. When are used several sizes of boxes or moves corrugated boxes it is necessary to apply modular conveyors or roller conveyors.
To order, please contact us by phone + 371 66 016 253, or e-mail bcsconveyor@inbox.lv
We guarantee a quick and qualified answer!